Wed. March 5, 2014.
50th Anniversary March on Frankfort for Civil & Voting Rights
Kentuckians for Single Payer Health Care participated in this commemorative march and rally at the State Capitol in Frankfort. Thousands marched demanding voting rights and passage of HB 70.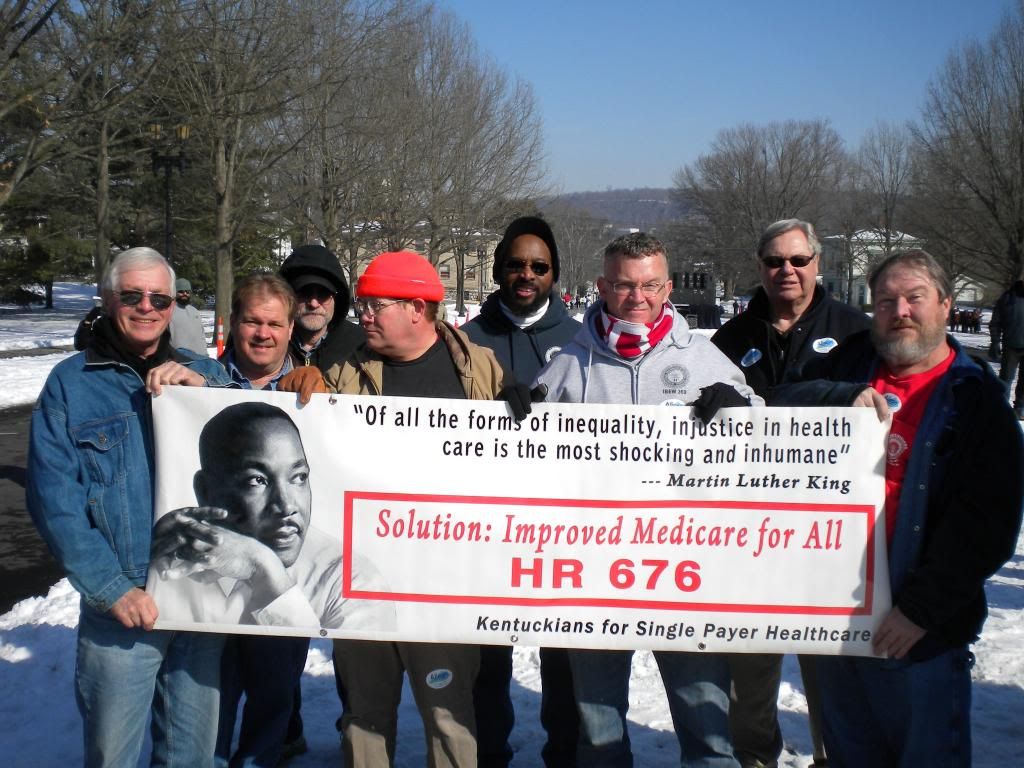 On the left is Scotty Pulliam, former president of IBEW Local 369 and KSPH Board Member; second from right is Charlie Clephas, Vice President of the Greater Louisville Central Labor Council; third from right is Charlie Essex, Business Manager of IBEW Local 369.
Sat., March 15, 2014, St. Patrick's Parade
Kentuckians for Single Payer Health Care will be in the St. Patrick's Day Parade. Parade steps off at 3:00 pm from Broadway & Baxter and ends at the Mid City Mall. Join us to walk with our banner and distribute single payer flyers!
Thursday-Saturday, April 10-12, 2014, Ed Weisbart, MD
Dr. Ed Weisbart
Ed Weisbart, MD, Chair of the St. Louis Chapter of Physicians for a National Health Program will be in Louisville speaking at a series of events on single payer health care:
* Thur. April 10, 2014, 7:00 PM, Public Program, Old Medical School Bldg, 101 W. Chestnut St.
* Fri. April 11, 2014, 7:30-8:30 AM, UofL Family and Geriatric Medicine Grand Rounds, Jewish Hospital Bottigheimer Auditorium, 200 Abraham Flexner Way
* Fri. April 11, 2014, Dr. Weisbart will meet with U of L Medical Students during the lunch hour.
* Sat. April 12, 2014, Single Payer Workshop with Dr. Weisbart & Kentucky, Indiana, and Tennessee physicians.
9:30 AM Registration & refreshments, Workshop 10 AM--2:30 PM, League of Women Voters' Lang House, 115 S. Ewing Ave, Lunch provided by PNHP-KY/KSPH. RSVP appreciated to kyhealthcare@aol.com.
Dr. Weisbart's article on single payer in the AMA Journal of Ethics is here.